21st Dec 2011
Luis Suarez - Guilty of being an idiot
What a complete and total pain in the arse this whole affair has been, and the fun and games are only just beginning.
All the talk at the moment is over an issue of racism, but I think it makes more sense to come at this from a different angle. Luis Suarez, whatever the context or intent in his comments, has undeniably been an idiot.
To dissect this issue in detail would be tiresome at best, and the vast majority of normal people have no interest in a story about two idiot footballers calling each other names. However looking at the bigger picture the FA have opened up the biggest can of politically correct worms imaginable.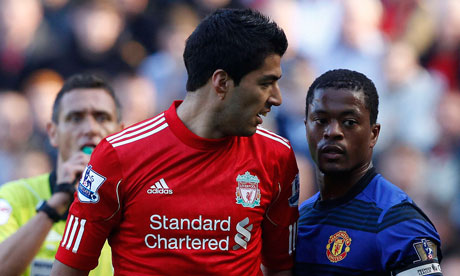 At this moment in time the LFC wagons are circling to protect their most prized possession, with some Birmingham Six style campaigns taking place from Reds supporters through the various social media. This is understandable to a point but ultimately misguided. It seems to me that the best course of action would be to accept the nonsense for what it is and just get on with it in as dignified a manner as possible. In any case from what I understand the grounds for appeal are quite limited and unlikely to be upheld, particularly in such a precedential case.
There are really two issues to assess here. Firstly let's examine the landmark verdict that the FA has arrived at. Christ knows they took long enough to decide that this was such a black and white decision (pun very much intended). Ultimately it was decided that the intent with which the word "negro" was used, as much as the word itself, incriminated Suarez beyond doubt.
Luis Suarez admitted using the word and this is where he's really shot himself in the foot. In a case where it was one man's word against another's it would have made more sense to say nowt. The fact that he admitted using the word allowed the FA to build a case against him, meaning he was either poorly advised or too honest/naïve for his own good.
The main error of the FA's ways is that they began their statement by agreeing that Luis Suarez is not a racist, and has not been accused of being a racist. So what has he been charged with? He has essentially been punished for foul and abusive language towards an opponent, but once the race card has been thrown into the ring the FA found the need to set a precedent for such a case.
Somehow I can't imagine such a furore over two players calling each other bastards, with questions arising over whether they were born in wedlock or not. The whole racism issue in football has become so tiresome recently that I'm not sure anyone really cares who says what anymore. Of course racism is a genuine and very real issue but in this particular case it's hard to see anything more than two idiots calling each other names.
The second point, and the more important one from a Liverpool FC perspective is that Luis Suarez is out of control. All credit to the lad, as no-one would've predicted that he could have topped the 7 game ban incurred while at Ajax last season! Since joining Liverpool FC he has been as much of a nuisance to Liverpool FC's legal department as he has been to opposition defenders.
There are the little things that he's gotten away with, such as pulling Rafael's (or Fabio's?) hair against the Mancs last year. There's been his tendency to go down too easy which has now seen him get absolutely no decision from referees, be them legitimate or not. He's not helped himself on so many occasions since joining the club.
Now not only do we have the Evra situation, but there is also the Fulham Finger which has still to run. I love Luis Suarez and as a footballing talent there are not many I would swap him for in world football. But the fact remains that he is something of a ticking time-bomb of irrational behaviour who has given the authorities every opportunity to collar him on one incident or another.
Even as I write this piece the club are releasing further statements of solidarity, which is becoming a little embarrassing. I really believe this could've been handled better with simple, short statements of support for Suarez being more than enough to keep the media frenzy at bay.
Luis Suarez will learn from this. He has to. He's by some distance our best player and we need him at the club for as long as we can hang on to him. Publicly the club are showing their solidarity and support but we need things like this like a hole in the head. It's down to Luis to ensure this sort of nonsense comes to an end now.